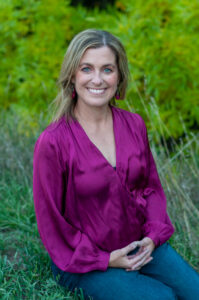 F
rom the time I was a child, I've felt drawn to helping others. I have a strong understanding of how difficult it is to face personal struggles and how challenging it can be to make a change. Reaching out for help is a sign of strength. And making a change, although difficult, can be liberating!
I strive to meet each client where they are. Therapy sessions are customized to your individual needs and can include exploring patterns of behavior, mapping and working with parts of self, and mindfulness work. I approach my work from a strengths-based perspective; that is, I believe that we all have the resources within ourselves to increase understanding and compassion and to create change. I am truly honored to be by your side in times of difficulty as well as times of hope and transition.
I work with clients with a variety of mental health concerns. Some areas of special interest include anxiety, depression, reproductive mental health, concerns of pregnancy and parenthood, relationship problems, grief and loss, trauma, stress-reduction, and navigating life transitions. I am an Internal Family Systems (IFS) trained therapist as well as an Eye Movement Desensitization and Reprocessing (EMDR) certified therapist and incorporate both IFS and EMDR therapy in my work with clients.
When I'm not in my office, I enjoy spending time with my husband and children. I was raised in Colorado and enjoy all things outdoors! I received my Master's Degree in Social Work from the University of Denver in 2008 and have had the honor of helping people access their strengths ever since.